Web Design
Trish Carlson

Marketing & Interactive Professional
Whether you already have a website, need someone to keep it fresh, or you want to design or redesign, I have the experience to help you. I have built and managed websites for all sizes of organizations that are focused on building brand equity, customer loyalty and improving business results. Since I have over 14 years of experience in all areas of marketing, I can integrate your marketing efforts with all your online efforts. After your site is launched, I can provde maintenence or train your staff to update and measure results. It is up to you!
What I Do

I bring value, innovation, and growth to your business
I can act as your designer or as an extension of your marketing team. I possess excellent organizational skills and have a proven record of creating and managing projects on time and within budget. I utilize effective interpersonal skills to build rich and honest relationships with employees, customers, vendors, and business partners. I am positive, self-motivated, versatile, and able to function well under tight deadlines.
The Complete Web Design Process

Define. Plan. Build. Test. Launch.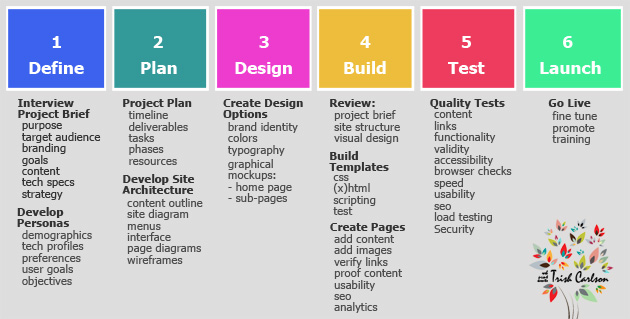 Process Defined

Design or Redesign Your Web Presence.
1. Define: The most critical step in the web design process is creating an accurate project definition. A project definition includes a project brief and a project plan. The client survey is used to gather the information needed to develop the project brief and plan.
2. Plan: Good web design requires a solid site architecture based on the site's goals and target audience established in the project brief.
3. Visual Design: Now it is time to be creative! Drawing on their knowledge of design principles, design elements, and user centered design, a designer can develop options that meet the project goals. A review of the project brief, branding guidelines as well as the technical requirements for screen resolution, browser compatibility, download time, web standards and accessibility should all be reflected in the design.
4. Build the Site: Now it is time to actually build the site. Confirming and refining the technical/tunctional requirements, and building and Integrating the site are the two major steps during this stage.
5. Test: Your original project plan should always allocate time for formal testing. Ideally, you should identify a person to serve as the Quality Assurance Lead. This individual's priority will be to create and manage the testing process, prioritze issues, insure that high priority issues are solved, and conduct the final review and release of the site.
6. Go Live. Launch: Plan the best date to go live. Consider your current web site traffic patterns and attempt to launch in a way that minimizes downtime. Make sure that everyone on the team is on call for any challenges that might occur during launch. If possible, consider a soft launch (a quiet beta launch that allows you to confirm everything is up and running before the official launch date).